Calendar
---
What's Happening at St. Helens Catholic Church this week !?!
Confession- 30 minutes before Mass and Mass is at the Rectory Chapel 423 NE Grattan Street unless otherwise stated. (Please call ahead to confirm days and times for any event: (904)- 742-9781
---
Abstinence
Abstinence means refraining from eating the meat from mammals or fowl, and soup or gravy made from them. Fish is allowed, hence Fridays are known as "Fish Fridays." Traditionally, the laws of abstinence apply to all aged 7 and over.
Partial Abstinence
Meat and soup or gravy made from meat may be eaten once a day at the principle meal.
Fasting
Fasting is the taking of only one full meal (which may include meat) and two smaller, meatless meals that don't equal the large one meal. No eating between meals is allowed, but water, milk tea, coffee, and juices are OK. Meat is allowed at one meal (assuming abstinence isn't also expected on a given day). Traditionally, everyone over 21 years of age and under 59 years of age is bound to observe the law of fast.
---
Week of December 5th 2022-December11th 2022
---
Monday 5th: Commemoration of Saint Sabbas
Mass 8:30 am
Rosary After Mass
Mass 6:00 pm
Altar And Rosary Society 3:00pm
Tuesday 6th: Saint Nicholas, Bishop
Mass - 8:30 am
Rosary After Mass
Hospital Visitation and Shut-ins

Altar And Rosary Society 3:00pm
Wednesday 7th: Saint Ambrose, Bishop and Doctor
Mass-8:30am

Rosary After Mass
Altar And Rosary Society-3:00pm

Mass 6:00pm / Bible Study 7:00pm: The Book Of Deuteronomy


Thursday 8th: Immaculate Conception - Holyday of Obligation
Mass -8:30am
Rosary After Mass
Chrysostom Bible Institute 9am-12pm

Altar And Rosary Society-3:00pm
Mass 6:00pm / Catechism Classes 7:00pm


Friday 9th: In the Octave -Abstinence

Mass -8:30am
Rosary After Mass
Chrysostom Bible Institute 9am-12pm

Altar And Rosary Society-3:00pm

6:00pm Mass

Rosary After Mass
Parish Meal (Soup and Salad) 7:00pm

Saturday 10th: In the Octave

Mass 9:00am

Rosary After Mass
Soup and Sandwich 12:00pm

Door to Door Visitation 1:00-3:00pm

Sunday 11th: Third Sunday of Advent / Gaudete Sunday
Mass 9:00am

Catechism Classes-10:00am
Home Visits For Communion 11:00am
---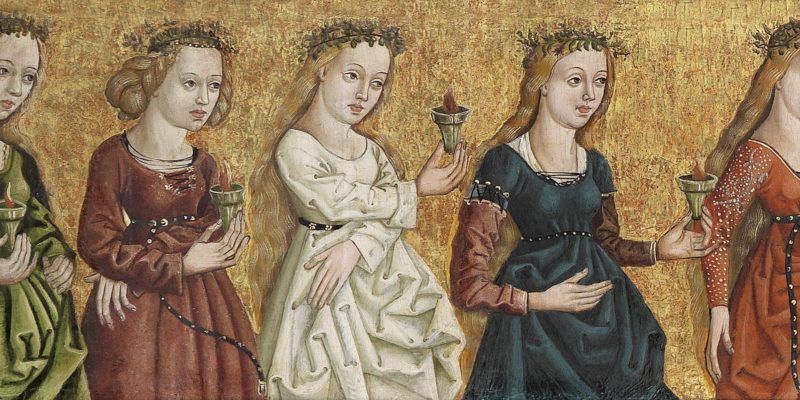 Theme:

His Historical and Future Coming

Color:

Violet

Mood:

Somber anticipation, restrained joy that grows each day until Christmas,
rather like waiting for a new mother to give birth -- joyous,
yet restrained, hesitant, and humbled until the moment of the birth arrives

Symbols:

Advent candles, empty crib, St. John the Baptist, the Ten Virgins

Length:

the 4th Sunday before Christmas to 24 December.
The 1st of the 4 Sundays in Advent is known as "Advent Sunday";
the 3rd Sunday is known as "Gaudete Sunday."
Advent begins on the Sunday closest to -- before or after -- St. Andrew's Day (November 30). The focus of the season is preparation for the coming of the Lord -- both in commemoration of His Nativity and His coming again at the end of time. Though most Protestants -- and far too many Catholics -- see this time of year as a part of the "Christmas Season," it isn't; the Christmas season does not begin until the first Mass at Christmas Eve, and doesn't end liturgically until the Octave of the Epiphany on January 14. It goes on in the spiritual sense until Candlemas on February 2, when all celebrations of Christ's Childhood give way to Septuagesima and Lent.

The mood of this season is one of somber spiritual preparation that increases in joy with each day, and the gaudy "Christmas" commercialism that surrounds it in the Western world should be overcome as much as possible. The singing of Christmas carols (which comes earlier and earlier each year), the talk of "Christmas" as a present reality, the decorated trees and the parties -- these things are "out of season" for Catholics; we should strive to keep the Seasons of Advent holy and penitential, always remembering, as they say, that "He is the reason for the Season."

To sum up the similarities and differences between Advent and Lent as penitential seasons, there's this, by Fr. Lawrence Smith:
Advent is the time to make ready for Christ to live with us. Lent is the time to make us ready to die with Christ. Advent makes Lent possible. Lent makes salvation possible. Advent is the time when eternity approaches earth. Lent is the time when time reaches consummation in Christ's eternal Sacrifice to the Father. Advent leads to Christ's life in time on earth. Lent leads to Christ's eternal Life in Heaven. The Cross -- through the Mass, penance, and mortification -- is the bridge connecting Advent and Lent, Christ and His Church, man and God.

Each of the Church's penitential seasons is a dying to the world with the goal of attaining new life in Christ.
Catholic apologist Jacob Michael wrote something very interesting about how secular America sees "Christmas" as beginning after Thanksgiving and ending on 25 December, and then makes "New Years Resolutions" at the beginning of the secular year:
...what Christians do (or should be doing!) during Advent and leading up to Christmas is a foreshadowing of what they will do during the days of their lives that lead up to the Second Coming; what non-Christians refuse to do during Advent, and put off until after Christmas, is precisely a foreshadowing of what they will experience at the Second Coming.

We Christians are to prepare for the Coming of Christ before He actually comes -- and that Coming is symbolized and recalled at Christmas. Non-Christians miss this season of preparation, and then scramble for six days after the 25th to make their resolutions. By then, however, it's too late -- Christmas has come and gone, Our Lord has already made His visitation to the earth, and He has found them unprepared. This is precisely what will take place at the Second Coming, when those who have put off for their entire lives the necessary preparations will suddenly be scrambling to put their affairs in order. Unfortunately, by then it will have been too late, and there will be no time for repentance. The Second Coming will be less forgiving than the Incarnation. There will be no four-week warning period before the Second Coming, like we get during Advent. There will be no six-day period of grace after the Second Coming during which to make resolutions and self-examination, like the secular world does from Dec. 26 until Jan. 1.
So please, restore Advent and don't think "Christmas is here" until it truly comes. One way to help focus on the theme of preparation is to read the parables of The Fig Tree, The Man Going on a Long Journey, The Faithful and Wicked Stewards, and The Ten Virgins in the 24th and 25th chapters of St. Matthew's Gospel. Another way to help you do this is to think of the Saint who embodies the spirit of this Season more than any other: the great St. John the Baptist. If you have an icon of him, venerate it especially now. Make special prayers to him and consider the message of this "voice of one crying in the desert": "Prepare ye the way of the Lord, make straight his paths." You will note that the readings of the second, third, and fourth Sundays of Advent focus on St. John, the earthly herald of Christ's coming whom St. Ephraem likened to the Star of Bethlehem, the Heavenly herald of His coming.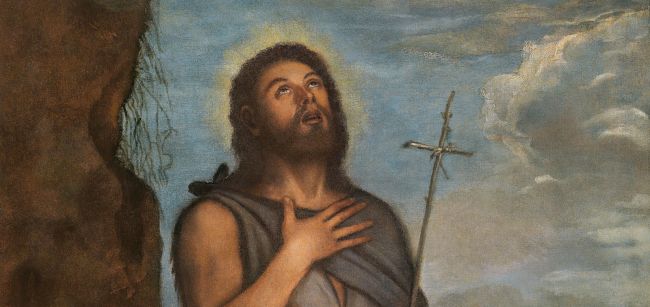 St. Ephraem also wrote these words which recall the Forerunner's message of preparation:
To prevent his disciples from asking the time of his coming, Christ said: About that hour no one knows, neither the angels nor the Son. It is not for you to know times or moments. He has kept those things hidden so that we may keep watch, each of us thinking that he will come in our own day. If he had revealed the time of his coming, his coming would have lost its savour: it would no longer be an object of yearning for the nations and the age in which it will be revealed. He promised that he would come but did not say when he would come, and so all generations and ages await him eagerly. Though the Lord has established the signs of his coming, the time of their fulfilment has not been plainly revealed. These signs have come and gone with a multiplicity of change; more than that, they are still present. His final coming is like his first. As holy men and prophets waited for him, thinking that he would reveal himself in their own day, so today each of the faithful longs to welcome him in his own day, because Christ has not made plain the day of his coming.

He has not made it plain for this reason especially, that no one may think that he whose power and dominion rule all numbers and times is ruled by fate and time. He described the signs of his coming; how could what he has himself decided be hidden from him? Therefore, he used these words to increase respect for the signs of his coming, so that from that day forward all generations and ages might think that he would come again in their own day.

Keep watch; when the body is asleep nature takes control of us, and what is done is not done by our will but by force, by the impulse of nature. When deep listlessness takes possession of the soul, for example, faint-heartedness or melancholy, the enemy overpowers it and makes it do what it does not will. The force of nature, the enemy of the soul, is in control.

When the Lord commanded us to be vigilant, he meant vigilance in both parts of man: in the body, against the tendency to sleep; in the soul, against lethargy and timidity. As Scripture says: Wake up, you just, and I have risen, and am still with you; and again, Do not lose heart.
Take note of the liturgy -- both certain Masses and parts of the Divine Office -- in Advent, especially on Saturdays and at other times scattered throughout the season. You'll hear the "Rorate Caeli" frequently, the beautiful cry to God to send forth the Savior:

Drop down dew, ye heavens, from above,
and let the clouds rain the just



R. Let the earth be opened and send forth a Saviour

Rorate caeli desuper et nubes pluant justum



R. Aperiatur terra et germinet salvatorem

Marian-focused "Rorate Masses" offered on Advent Saturdays (and, in some places, on other days throughout Advent) take place very, very early in the morning, when it's still dark -- so dark that people burn candles to light the church's darkness, awaiting literal dawn as we await "Dayspring, Brightness of the everlasting light, Sun of justice, come to give light to them that sit in darkness and in the shadow of death!"

The station churches of Advent:

First Sunday of Advent: S. Maria Maggiore
Second Sunday of Advent: S. Croce in Gerusalemme
Third Sunday of Advent: S. Pietro in Vaticano
Advent Ember Wednesday: S. Maria Maggiore
Advent Ember Friday: SS. Apostoli
Advent Ember Saturday: S. Pietro in Vaticano
Fourth Sunday of Advent: SS. Apostoli
Temporal Preparations
Advent is also season of preparation in a more mundane sense. Homes are cleaned from top to bottom, and Christmas cakes and cookies are often made by the hundreds for family and to give out to friends and acquaintances when Christmas finally arrives.

Christmas trees shouldn't be decorated (or at least lit) until Christmas Eve because Advent itself should remain penitential, but time can be wonderfully spent making Christmas Tree ornaments throughout the Season for when Christmas finally arrives.